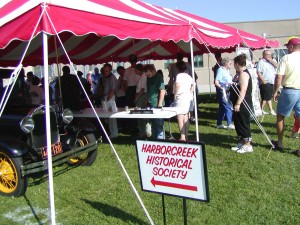 Community
Harborcreek Historical Society (HHS) serves a diverse audience. Many attend these special events, historical programs and general meetings. HHS volunteers often present to schools and youth organizations.  Class reunions may include a Historical Society visit or driving tour with their activities.  The Society provides unique and specialized educational programming about Harborcreek history to                                                                                                        people of all ages.
The Society is member of Erie Yesterday, which is a network of Erie County Historical Societies and Museums that promote local history. Furthermore, we participate with the Harborcreek Township, Harborcreek School District and Harborcreek Chamber of Commerce for community events.
The Society is maintained and grown through the efforts and generosity of the Harborcreek community.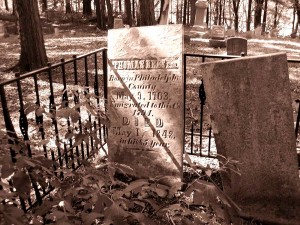 History
Harborcreek Historical Society was incorporated into history in 1994 with 22 charter members. Today, it has grown to over 200 members from Pennsylvania and 21 other states.
Charter members laid the foundation for the Society by establishing by-laws, publishing folios and commissioning the drawing of the Central School print.
Restoration and care of the Gospel Hill Burial Ground became our signature project in 1996. Gospel Hill Burial Ground was founded in 1827, and is the final resting place for many of pioneer settlers of Harborcreek , which includes Thomas Rees and the Bonnell, Sewell and Tuttle families. The cemetery is approximately half an acre in size, and is located on Station Road at the northern edge of The Behrend College (Penn State Erie) campus. The Society is responsible for the ongoing preservation and maintenance of the property.
Visit and Contribute
Harborcreek Historical Society accepts artifacts, personal memoirs  and historical documents with reference to the Harborcreek area. We have received yearbooks, family histories, lots of photographs, reference books, news articles, artwork of various landmarks, and school memorabilia. The library and Archives are accessible to members and the general public.
HHS often receives tribute or memorial donations, which is  acknowledged in our newsletter.  Your membership provides you with quarterly newsletters and helps sustain the Harborcreek Historical Society.  Business sponsors also contribute to maintaining the society activities, especially publishing the newsletter.
Learn more about the Society in past issues of The Harbor View, our quarterly newsletter.
Spring 2010 • Summer 2010 • Fall 2010
Winter 2011 • Spring 2011 • Summer 2011 • Fall 2011
Winter 2012  •  Spring 2012  •  Summer 2012  •  Fall 2012
Winter 2013  •  Spring 2013  •  Summer 2013  •  Fall 2013
Spring 2014  •  Summer 2014  •  Fall 2014
Winter 2015  •  Spring 2015  •  Summer 2015  •  Fall 2015
Winter 2016  •  Spring 2016  •  Summer 2016  •  Fall 2016

468
true
dots
under
264
true
800
https://www.harborcreekhistory.org/wp-content/plugins/thethe-image-slider/style/skins/white-square-1