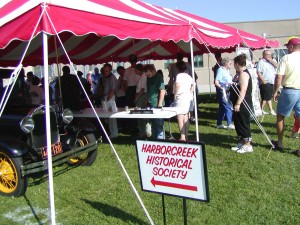 COMMUNITY
The Harborcreek Historical Society is housed in the historic Gifford-Blanchfield House, where we offer a research library, temporary and permanent exhibitions highlighting Harborcreek history, and a gift shop. We actively collect and preserve photographs, documents, diaries/journals, ephemera, etc. that relate to the history of the Harborcreek area and make this history available to the community through public programs, special events, and tours.
The Society is member of Erie Yesterday, which is a network of Erie County Historical Societies and Museums that promote local history. Furthermore, we participate with the Harborcreek Township, Harborcreek School District and Harborcreek Chamber of Commerce for community events.
HISTORY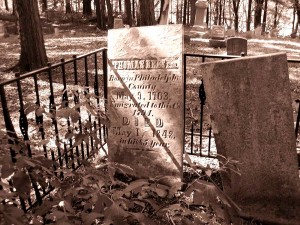 Harborcreek Historical Society was created in 1994 with 22 charter members. Today, its membership has grown to include more than 200 individuals and families from Pennsylvania and 21 other states.
Charter members laid the foundation for the Society by establishing by-laws, publishing a series of local history booklets (folios), and commissioning a drawing of the old Central School.
Restoration and care of the Gospel Hill Burial Ground became our signature project in 1996. Gospel Hill Burial Ground was founded in 1827, and is the final resting place for many of the pioneer settlers of Harborcreek , which includes Thomas Rees and the Bonnell, Sewell, and Tuttle families. The cemetery is approximately half an acre in size and is located on Station Road at the northern edge of The Behrend College (Penn State Erie) campus. The Society is responsible for the ongoing preservation and maintenance of the property.
COLLECTIONS
The Society is maintained and grown through the efforts and generosity of the Harborcreek community.
Harborcreek Historical Society accepts artifacts, personal memoirs and historical documents with reference to the Harborcreek area. We have received yearbooks, family histories, lots of photographs, reference books, news articles, artwork of various landmarks, and school memorabilia. The library and Archives are accessible to members and the general public.
Learn more about the Society in past issues of The Harbor View, our quarterly newsletter.
Spring 2010 • Summer 2010 • Fall 2010 • Winter 2011 • Spring 2011 • Summer 2011 • Fall 2011 • Winter 2012  •  Spring 2012  •  Summer 2012 • Fall 2012 • Winter 2013 • Spring 2013 • Summer 2013  •  Fall 2013 • Spring 2014  •  Summer 2014  •  Fall 2014 • Winter 2015  •  Spring 2015  •  Summer 2015  •  Fall 2015 • Winter 2016  •  Spring 2016  •  Summer 2016  •  Fall 2016 • Winter 2017 • Spring 2017 • Summer 2017 • Fall 2017 • Winter 2018 • Spring 2018 • Summer 2018 • Fall 2018 • Winter 2019 • Spring 2019 • Summer 2019 • Fall 2019 • Winter 2020 • Spring 2020 • Summer 2020 • Fall 2020 • Winter 2021 • Spring 2021 • Summer 2021 • Fall 2021 • Winter 2022 • Spring 2022 • Summer 2022 • Fall 2022 • Winter 2023 • Spring 2023