"Thank You" for Attending the 2014 Annual Meeting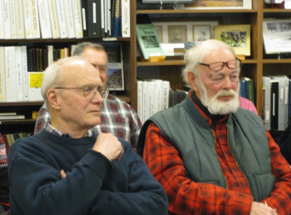 On January 28 Harborcreek Historical Society hosted its annual membership meeting. Director John Skuce led a discussion about growing up in Harborcreek in the 1940s which sparked interesting conversations about school, hunting, farming, and neighbors. The Society's Board of Directors and executive officers were voted on as well at the annual meeting. We thank John for his engaging presentation and welcome Jane Ingold to the board!
Meet Our New Director Jane Ingold
Jane Ingold is an Assistant Librarian for the Lilley Library at Penn State Behrend. One of her "other duties as assigned" is to oversee the Behrend Archives. She was raised in Cranesville and received her BA in English from  Gannon and a Masters of Library and Information Science from the University of Texas at Austin. While there she worked as a page at the Barker Texas History Center, where she learned to love archives. She has written several articles about Behrend family, Behrend College, and Hammermill Paper Company history including a two-part series for this newsletter and she enjoys giving tours to local groups. Last year she co-chaired the Local Arrangements Committee for the Spring meeting of the Mid-Atlantic Regional Archives Conference which brought over 230 archivists to Erie from as far away as North Carolina.  She has been a member of Harborcreek Historical Society since 2007.
Photograph Caption: Richard Cowell and Sherman Clark at the Society's annual meeting.